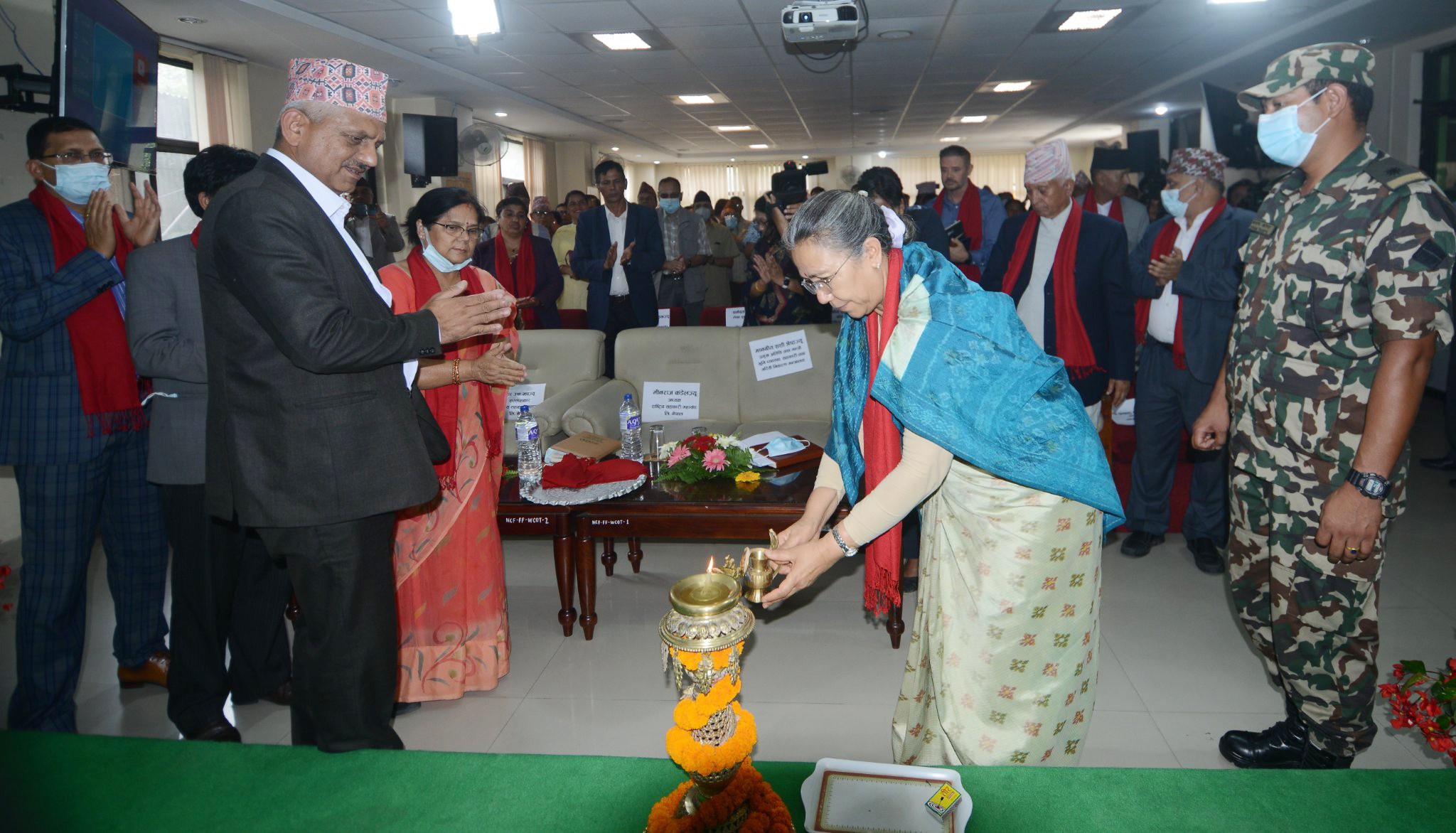 Exuberantly Celebrated 100th International Day of Cooperatives in Nepal
Kathmandu, July 02, 2022,National Cooperative Federation of Nepal (NCF) together with the Government of Nepal, Ministry of Land Management, Cooperatives and Poverty Alleviation celebrated 100th International Day of Cooperatives (IDC), 28th United Nations International Day of Cooperatives, and 29th National Cooperative Federation Day on July 02, 2022 on the premises of National Cooperative Federation of Nepal (NCF), Lalitpur. Based on the theme 'Cooperatives Build a Better World' unveiled by International Cooperative Alliance(ICA) for this year, the special occasion was observed by High level government Officials, Cooperators, representatives of UN Agencies and Development Partners along with large stakeholders and media personals.
From the capacity of Chief Guest, Honorable Minister Ms. Shashi Shrestha from Ministry of the Land Management, Cooperatives and Poverty Alleviation inaugurate by lightening the lamp. This year cooperators around the world are shouting out the message that cooperatives are effective vehicle to build a better world through self-help, self-responsibility, solidarity and mutual cooperation especially in the post disaster and post COVID-19 Pandemic.
During her speech on inauguration, Minister Shrestha expressed her delight to see the efforts cooperatives are doing to build better community in Nepal. Cooperatives good works are exemplary even in the international arena. Formation of good policy is not enough, we must be able to implement in the ground, international practices are not always suitable to implement in the context of Nepal, so we have to develop our unique model to create a better community, she added. Encouraging to continue the cooperatives good job, Minister Shrestha assured that the Government of Nepal is always ready to support and promote cooperatives in Nepal. The promotional fund of cooperatives is positive to develop the capacity of cooperatives so we are in shortly discussing amount it to design a best model to disseminate it. "For its flourishment, if there are any legal issues, Ministry is always ready to sit together and address such issues." Shrestha added. She also expressed her inner desire to promote Cooperative Movement, and dedicatedly working for its end result.
A working paper on the theme "Cooperatives Build a Better World" was presented by the Secretary of the Ministry of Land Management, Cooperatives and Poverty Alleviation, Mr. Ram Prasad Thapaliya. The presentation focuses on the alignment of philosophy and identity of cooperatives to a practical ground to build a better world, concept of creating better world, how cooperatives can be a major vehicle to create better world by uplifting members socio economic, cultural and environmental aspirations and so on. The paper was much informative to all to understand the concept and usage of cooperatives to build a better world.
As a chair of program NCF Chairman Mr. Min Raj Kadel gratitude all the participants and said that though the history of the cooperative movement of Nepal is not so long, but is doing significant jobs to improve socio economic cultural and environmental sector of the country. Simply by following its principles and values and to put people at front, there is no doubt cooperatives can support on creating better world. Mr. Kadel also reminded about the major contemporary issues of cooperatives associated with Ministry and the Department to be addressed as early as possible.
During the inauguration session, NCF Senior Vice Chairperson Ms. Om Devi Malla shared the objectives of the program and welcomed all esteemed participants by aspiring words while NCF General Manager Ms. Chitra Kumari Thamsuhang Subba run the program, highlighting holistic commemoration of the occasion.
The next segment of the program was award distribution to the cooperators, employees and cooperatives who has done an outstanding job in the last fiscal year. In line with this, NCF distributed National Cooperative Award to a best cooperator, Excellent Cooperative Award to District Level Cooperative Union and Excellent Cooperative Business Award to Primary Cooperatives from all Provinces along with Excellent Cooperative Employee Award to best employee of the year. The awards were jointly handed over by the Honorable Minister, NCF Chairman along with the Secretary and the Registrar of the Department of Cooperatives. The video clips of all awardees were presented prior to the award distribution incorporating their contribution, best effort and good practices to become the best.
During the program, the speakers NCF Advisor and former National Planning Commission member, Dr. Usha Jha, Former Chairperson of NCF, Mr. Deepak Prakash Baskota, Registrar of the DOC Mr. Rudra Prasad Pandit, ILO Country Director Dr. Richard Howard, Senior Vice Chairperson of NEFSCUN Mr. Chandra Dhakal along with National Cooperative Award winner Mr. Bijay Raj Ghimire who was also the former Vice Chairman of NCF along with Mr. Narayan Prasad Bhattarai from Mechi Cooperatives on behalf of award winner expressed their valuable remarks.
The award was distributed as undermentioned:
1. National Cooperative Award 2078
Mr. Bijay Raj Ghimire, Former Vice Chairman of National Cooperative Federation of Nepal
2. Excellent Cooperative Award 2078
District Cooperative Union Dolakha
3. Excellence Cooperative Business Award 2078
a) Province No 1: Mechi Multipurpose Cooperative Ltd. Jhapa
b) Madesh Province: Bagdev Milk Production Cooperative Ltd., Nijgad, Bara
c) Bagmati Province: Hilltop Junar Multipurpose Cooperative Ltd., Tinkune, Kathmandu
d) Gandaki Province: Kaligandaki Mahila Bikash Multipurpose Cooperative Ltd., Pyaiupata, Baglaung
e) Lumbine Province: Siko Savings & Credit Cooperative Ltd., Thakurbaba, Bardiya
f) Karnali Province: Janahitkari Savings & Credit Cooperative Ltd., Birendranagar, Surkhet
g) Sudurpaschim Province: Ekata Pragatishil Savings & Credit Cooperative Ltd., Godavari, Kailali
4. Excellent Cooperative Employee Award 2078
Mr. Balkrishna Dhoju, Manager, District Savings & Credit Cooperative Union Ltd., Bhaktapur