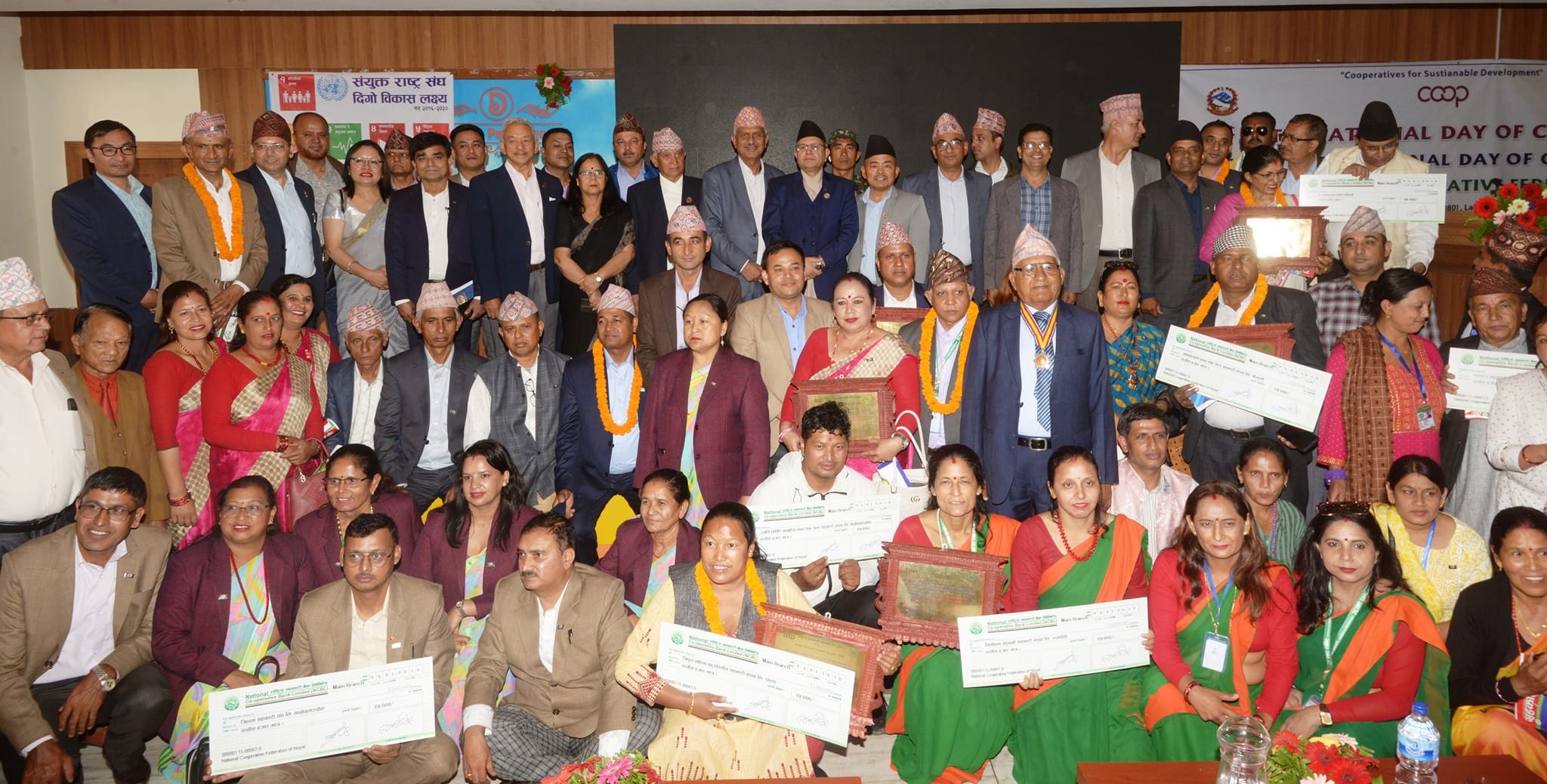 Exuberantly Celebrated 101st International Day of Cooperatives in Nepal
Kathmandu, July 01, 2023
National Cooperative Federation of Nepal (NCF) together with the Government of Nepal, Ministry of Land Management, Cooperatives and Poverty Alleviation celebrated 101st International Day of Cooperatives (IDC), 29th United Nations International Day of Cooperatives, and 30th National Cooperative Federation Day on 1st July 2023 in Lalitpur. Based on the theme 'Cooperatives for Sustainable Development' unveiled by International Cooperative Alliance(ICA) for this year, the special occasion was observed by High level government Officials, Cooperators, representatives, large stakeholder and media personals.
From the capacity of Chief Guest, Honorable Speaker of the House of Representative Mr. Devraj Ghimire inaugurated the special Program by lightening the lamp. This year cooperators around the world are shouting out the message that cooperatives are effective model and vehicle to achieve sustainable development through self-help, self-responsibility, solidarity and mutual cooperation in the post pandemic scenario.
During his speech on inauguration, the Honorable Speaker Ghimire expressed on the need of policy correction in terms to the limitation of cap of two million five hundred thousand. o treat cooperatives in Nepal. The rivals of cooperatives are shouting to degrade the quality of cooperatives. Further and importantly, the chief guest provides his suggestions to celebrate this day a on a single banner.
As a chair of program NCF Chairman Mr. Min Raj Kadel gratitude all the participants and said that though the history of the cooperative movement of Nepal is not so long. The Government must punish the cooperatives doing bad whereas promoting good doing cooperatives is very important. Simply by following its principles and values and to put people at front, there is no doubt cooperatives can support on creating better world.
Former Chairman of National Cooperative Federation of Nepal Mr. Deepak Prasad Baskota expressed his core understanding of international context of cooperatives and inspires cooperators to follow its philosophy and principles. Addressing the program, the Registrar of the Department of Cooperative, Namraj Ghimire highlighted on the potentiality of the cooperatives and the current issues caused by the fluctuation in economy of Nepal. He also expressed his confidence to resolve such issues by truly following the values and principles of Cooperative, and jointly working together with all the concerned authorities.
During the inauguration session, NCF Advisors and Former Member of National Planning Commission Dr. Usha Jha also expressed her valuable remarks highlighting the wideness of Cooperatives, potentiality, identity and having common understanding about cooperatives. Likewise, Senior Vice Chairperson of NEFSCUN Mr. Chandra Dhakal, Pro. Dr. Binod Krishna Shrestha from Kathmandu University expressed their greeting remarks.
Earlier, NCF General Manager Ms. Chitra Kumari Thamsuhang Subba welcomed all and highlighted with the program objectives mentioning the possibilities, current issues, possible way out and many more. She stressed on the contribution of cooperative sector in SDG intervention and possible future prospect. Meanwhile, Mr. Tek Prasad Chaulagain, Board of Director of NCF run the program.
The core aspect of the program was to distribute award to the successful cooperators, cooperatives and cooperative journalist, distributing appreciation letter to the co-organizers, supports and partners of "Third National Cooperative Congress" held on last April 2023 as well to handing over mark sheet to the successful students of "Diploma in Cooperative Management Course" organized by NCF.
NCF distributed National Cooperative Award to a best cooperator, Excellent Cooperative Award to District Level Cooperative Union and Excellent Cooperative Business Award to Primary Cooperatives from all seven Provinces along with Excellent Cooperative Journalist Award of the year. The awards were jointly handed over by the Honorable Speaker, Devraj Ghimire along with the NCF Chairman Minraj Kadel. The video clips of all awardees were presented prior to the award distribution incorporating their contribution, best effort and good practices to become the best.
The award was distributed as undermentioned:
1. National Cooperative Award 2079
Dr. Shantaraj Sharma Neupane, Former Managing Director of National Cooperative Federation of Nepal
2. Excellent Cooperative Award 2079
District Cooperative Union, Kavrepalanchowk
3. Excellence Cooperative Business Award 2079
a) Koshi Province: Small Farmers Agriculture Cooperative Ltd. Jhapa
b) Madesh Province: Small Farmers Agriculture Cooperative Ltd. Sharlahi
c) Bagmati Province: Jyoti Mirmire Samuhik Savings & Credit Cooperative Ltd. Kavrepalanchowk
d) Gandaki Province: Mallaz Multipurpose Cooperative Ltd. Parbat
e) Lumbine Province: Tillotama Bahumukhi Cooperative Ltd. Rupandehi.
f) Karnali Province: Tripura Mahila Mulitipurpose Cooperative Ltd. Dolpa
g) Sudurpaschim Province: Janakalyan Savings & Credit Cooperative Ltd. Kailali
4. Excellent Cooperative Journalist Award 2079
Mr. Khilanath Dahal, Editor, Sahakari Akhabar.com